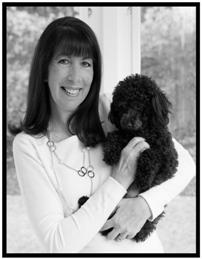 We hadn't planned on getting a third dog when the urgent email came across my computer about a severely injured poodle. "Toby" had been found in a cardboard box on a lonely country road in Mississippi by a Good Dog Rescue volunteer out on her morning jog. The rescue group was raising funds for surgery to repair the little dog's shattered pelvis and mangled back leg, devastating injuries probably sustained more than two weeks prior. Funds were needed immediately to get him into surgery as his life was in danger and his great discomfort was obvious.
Looking at the little dog's face on my computer screen, I knew I had to help. As the owner of a pet sitting service and a huge dog lover, I decided to donate the balance of the needed funds so that Toby's surgery could be done immediately. Two surgeries later, one to repair the shattered pelvis and the other to amputate the useless back leg, Toby was on his way to making a miraculous recovery.
Somewhere along the way, the skinny little poodle found his way into my heart. I contacted Good Dog Rescue to ask if I could adopt Toby and was given a resounding "YES!" After five weeks of rehab, Toby was ready to make the journey from Mississippi to Massachusetts to join our family.
I was told that Toby would probably never go up steps but, after 8 weeks of running around and playing, he built up such strong shoulder muscles that he surprised everyone with his newfound strength. Not only could he go up a full flight of stairs, but he also mastered the art of going in and out of the doggy door independently. His loving and grateful personality endears him to everyone he meets, and he recently became a certified Caring Canines Visiting Therapy Dog.
There's not a sweeter, happier dog around and I cannot imagine our lives without Toby. It's a privilege to know him and to be able to give him the kind of life that he deserves.
-Wendy Dellemonico